Weddings at La Grande Résidence
A wedding is the celebration of a lifetime, and we want yours to be like no other. Our attentive service, expert support, and memorable cuisine will make every sparkling moment even brighter. With years of dedicated experience in the art of wedding planning, La Grande Résidence ensures your special day will be everything you have ever dreamed of.
From an intimate gathering of 20 to an extravagant affair of 400 in our dramatic Le Versailles Ballroom, we will help create the perfect celebration. Celebrate your day surrounded by the splendour of damask silk wall coverings, spectacular crown mouldings, and dramatic chandeliers that accent our fabulous selection of venues.
As your guests arrive for the wedding, they will be greeted by uniformed door staff. Walking through the elegant lobby, our concierge will assist with directing your guests to your Wedding Ceremony or Reception. Working with the freshest ingredients, our chefs have perfected the art of matching food and wine. Our experienced event team will assist you with every step of the planning process, ensuring each element, down to the minor details, are seamless and tailored perfectly to suit your preferences.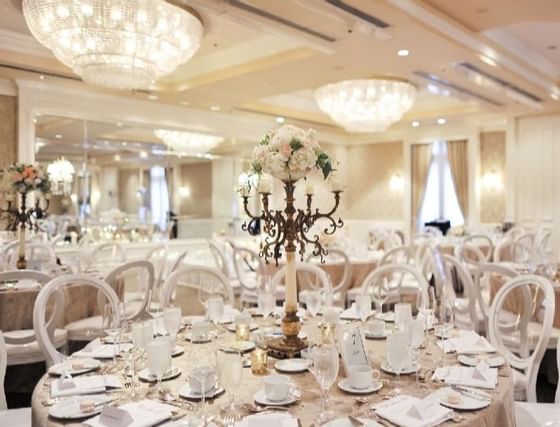 Delight your guests with a selection of exquisite menu options prepared by our award-winning culinary team, or create a menu tailored perfectly to meet your needs and preferences. Your table décor will include a selection of table linen, china, silverware and glassware, as well as votive candles.
View Menu Options

opens in a new tab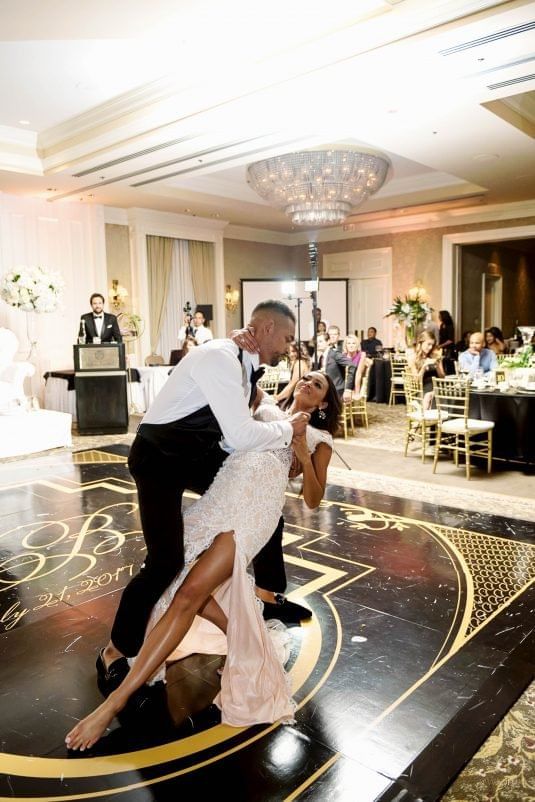 Dancing
We will assist with custom floor plans and seating arrangements, including a dance floor, staging for entertainment, and referrals to entertainment including DJ services and bands.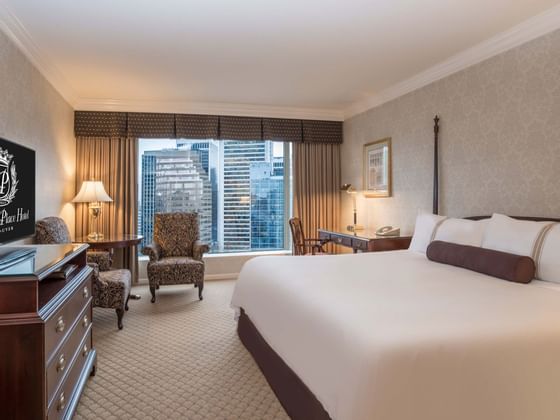 Accommodation
We are pleased to provide a complimentary 'Honeymoon Suite' for the couple. For your
out-of-town guests, we offer a special room rate,
based on availability.
Capacity Chart
| | Square Feet | Classroom (2 per table) | Classroom (3 per table) | Theatre | U-Shape | Boardroom | Rounds x 10 | Half rounds x 6 | Half rounds x 8 | Hollow Square | Reception |
| --- | --- | --- | --- | --- | --- | --- | --- | --- | --- | --- | --- |
| Salon Degas | 273 | - | - | - | - | - | - | - | - | - | - |
| Salon Pommard | - | 36 | 69 | 140 | 30 | 34 | 110 | 48 | 64 | 36 | 180 |
| Le Versailles Ballroom (A & B) | 3,150 | 132 | 204 | 90 | 80 | - | 280 | 144 | 192 | 90 | 300 |
| Le Versailles Salon A | 2,310 | 74 | 111 | - | 66 | 48 | 200 | 96 | 128 | 90 | 220 |
| Le Versailles Salon B | 840 | 36 | 54 | - | 36 | 34 | 80 | 36 | 48 | 36 | 80 |
| Château Mouton Rothschild | 875 | 30 | 45 | - | 24 | 28 | 60 | 30 | 40 | 26 | 70 |
| Château Lafite | 918 | 32 | 48 | - | - | 40 | 50 | 30 | 40 | - | 70 |
| Château Belair | 910 | 28 | 42 | - | 24 | - | 50 | 30 | 40 | 30 | 80 |
| Château Margaux | 770 | 24 | 36 | 50 | 22 | 22 | 40 | 24 | 32 | 24 | 50 |
| Château Olivier | 750 | 24 | 36 | 60 | 22 | 22 | 50 | 24 | 32 | 30 | 50 |
| Salon Renoir | 575 | 18 | 27 | - | 20 | 20 | 40 | 18 | 24 | 24 | 40 |
| Salon Monet | 273 | 6 | 9 | 15 | - | 12 | 10 | 6 | 8 | - | 10 |