The Best Waterfalls In Revelstoke
In this blog, we'd like to share with you 6 of the best waterfalls in Revelstoke, British Columbia. The Columbia Mountains are well-known for their outstanding natural beauty. Mount Revelstoke National Park is often top of many visitors' itineraries, and Revelstoke Mountain Resort makes the stunning alpine more accessible than ever.
If you're looking to see one of the beautiful waterfalls in Revelstoke, we recommend you start with this list. We've included a couple of popular spots as well as a couple of lesser-known oases.
Things To Remember When Discovering The Best Waterfalls In Revelstoke

Waterfalls are often found in rocky settings. This means that there is an opportunity for slips and so caution should always be exercised. It is recommended to wear suitable footwear such as a sturdy, water-repellant boot with a rubberized sole.
It's also important to remember that dampness can affect our body temperature. Be sure to pack a poncho or waterproof shell to avoid getting too wet.
Remember, in many instances, you're travelling in bear country and so it's advisable to hike with bear bells and/or bear spray. Ensure you know what to do in a wildlife encounter and avoid hiking alone.
Check local trail reports as well as weather reports before setting out, and ensure you leave a trip plan with someone who can keep track of your whereabouts. A great resource is adventuresmart.ca.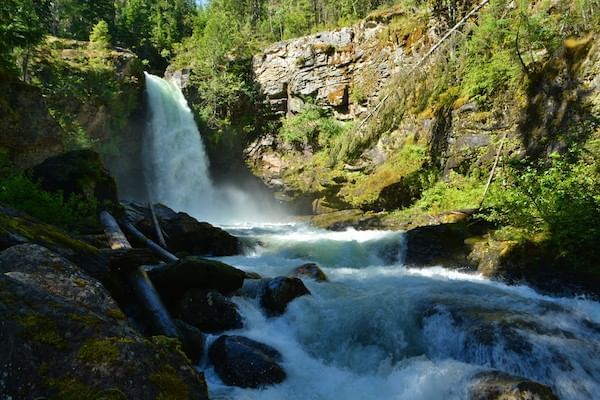 PC: BC Parks
Blanket Creek Falls

The beauty of Blanket Creek Falls is that they're easily accessible. You'll find them right off the main road within Blanket Creek Provincial Park, which is about a 20-minute drive south of Revelstoke. Blanket Creek Falls are super picturesque. They feature several tiers of cascading water set among a lush forest canopy. We'd recommend packing a picnic and soaking up the tranquillity at this great spot.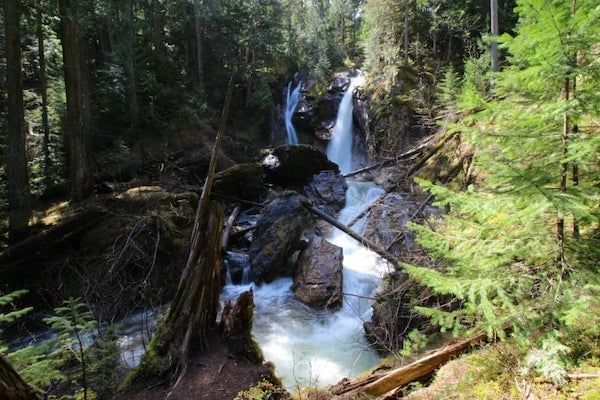 PC: Kelowna Now
Begbie Falls

You'll enjoy a relatively-easy, 20-minute hike to reach Begbie Falls, which is located about 30 minutes northeast of Revelstoke. The falls drop about 100ft and are set in incredible old-growth, making Begbie Falls great for a photo opportunity. If you choose to visit in late spring/early summer, you'll be rewarded with increased flow due to local snowmelt. The rush of Begbie Falls really is exhilarating!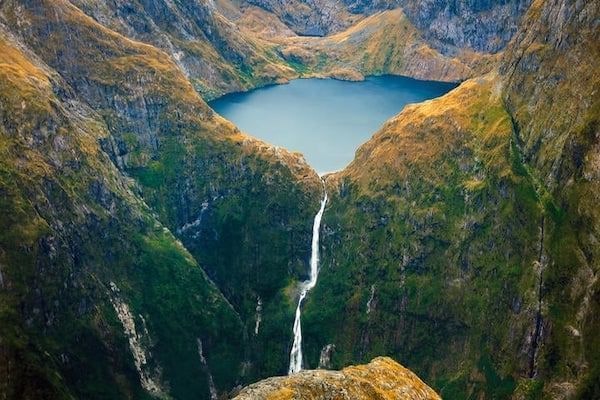 PC: Suitcase Magazine
Sutherland Falls

Set within Mount Revelstoke National Park–starting from the Meadows in the Sky Parkway–Sutherland Falls is a 2.5km round trip of moderate intensity. They're slightly taller than Begbie Falls, at 115ft, making them a dramatic spectacle to behold. Close by, there are opportunities for hiking, picnics, birdwatching, and wildlife spotting. Or simply take in the alpine views and dazzling wildflowers of Mount Revelstoke National Park.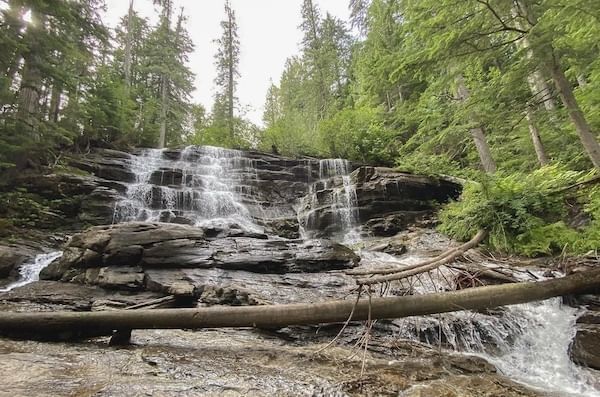 PC: That Adventurer
Moses Creek Falls

You can discover Moses Creek Falls in Glacier National Park, which is about 30 minutes east of Revelstoke. The falls are accessed via the Moses Creek Trail, which starts near the Trans-Canada Highway (Highway 1). Allow 2-3 hours to complete the 6km round-trip, which takes in the 150ft falls as well as incredible mountain views. As this trail is slightly removed from Revelstoke, you may find that it's quieter than some of the more accessible waterfalls.
Split Rock Falls

This one is an adventure for the whole family! To access Split Rock Falls, first ride the Revelation Gondola at Revelstoke Mountain Resort. Keep your eyes open for black bears that often feed on the ski runs! At 5,500ft, you begin the 600m, easy trail, which loops out to Split Rock Falls and back. While you're up top, be sure to check out the Glacier View Deck or the Revelstoke View Deck–each with unmissable vistas of the surrounding area–or grab refreshments and enjoy the view from the patio of the Mackenzie Outpost!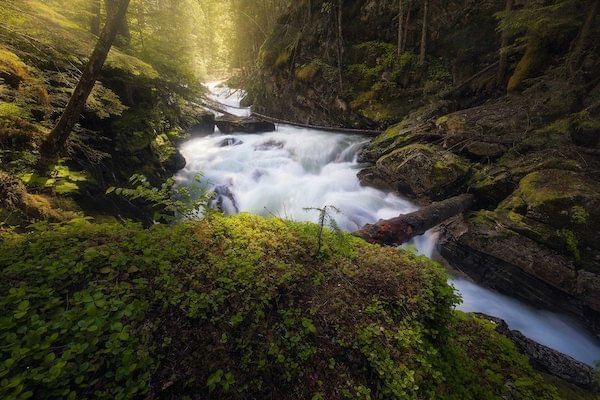 PC: Crazy Creek Resort
Crazy Creek Falls

One of the great things about Crazy Creek Falls is that it's wheelchair accessible making it a great option for everyone. You'll find Crazy Creek Resort just west of Revelstoke, located on the Trans-Canada Highway. The entry fee is reasonable and the falls and suspension bridge are definitely worth it. There are multiple viewing platforms of the falls and a 240 ft suspension bridge you can walk across. The resort also features accommodation, food & beverage, hot pools, and awesome four-season activities!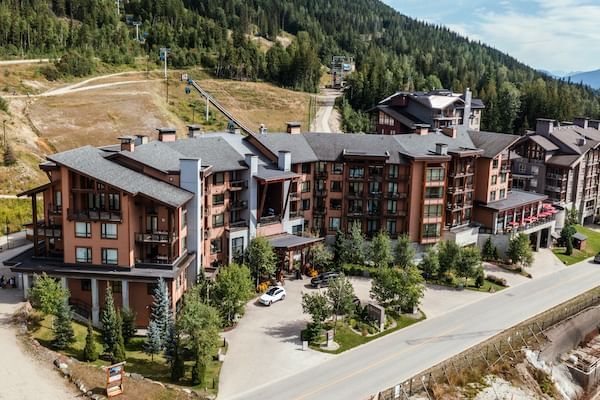 Where To Stay In Revelstoke?

After a day of chasing waterfalls (we couldn't get this far and not quote TLC, could we?) find rest and serenity at The Sutton Place Hotel Revelstoke Mountain Resort. Choose to make a splash in the outdoor pool or soak your bones in one of two onsite hot tubs. Then retire to your spacious suite where you'll enjoy a luxurious king bed, customizable climate control, and complimentary Wi-Fi among other, excellent guest amenities. Visit suttonplace.com/revelstoke and remember to book direct for the best rates.